Regular price
Sale price
$15.00 USD
Unit price
per
Sale
Sold out
Wind chime wind catchers, wind vanes, sails, they are all the same thing. The object that hangs at the bottom of a windchime, that in a breeze, moves the clapper to ring the chime.
These sometimes break off or the cord snaps off and the windcatcher is lost. We have a supply of wind catchers to be used as replacement for yours that is no longer. We have 2 sizes, large and small.
If you choose the shape or motif, price is $15 for the large, if we choose the shape price is $10. For the small size if you choose the motif $12, if we do $8. In all cases we include 2 brass chain links,one embedded in the windcatcher, and the other to attach to your cord. The double chain is crucial to maximizing the action of the windcatcher. If you are in need of cord, best to use is a man's dress shoelace, the skinny thin type.
All our windcatchers are solid brass, they never rust, crack, or need any type of maintenance. Shipping is $3 each.
We can also embed another brass chain link on the bottom of windcatcher, and then you can create a hanging sculpture with several connected that could function as a rain chain.
If you would like to order one of these, please call us at 800-468-2355 (HOT-BELL).
Share
View full details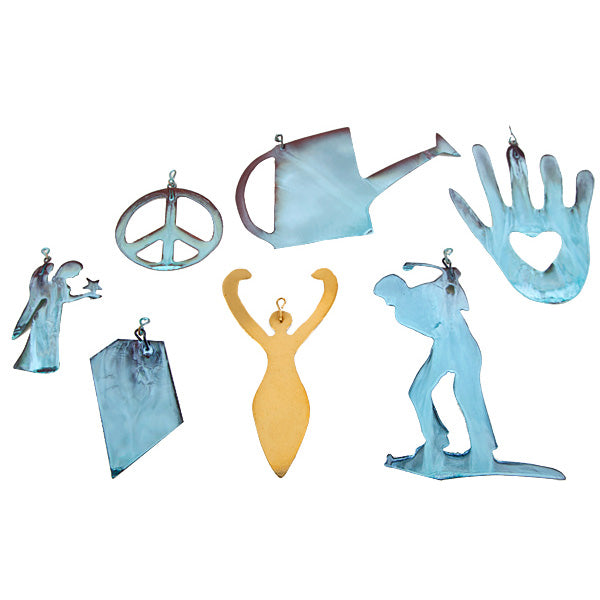 Available Motifs
Story

Housewarming

Remembrance

Freedom

Peace Dove

Graduation

Transformation

Anniversary

Gardener's

Friendship

Mother & Child

Thank You

New Baby

Peace Sign

Long Tail Cat

Fairy

Birthday

OM

Doggy Angel

Kitty Angel

Engagement
Cats

Long Tail Kitty

Playing Cat

Cat

Kitty Angel Watering

Kitty Angel
Dogs

Aussie Dog

Greyhound

Water Spaniel

Retriever

Dog Angel

Labrador
Watering/Garden

3D Winged Water Can

Kitty Angel Watering

Cherub Watering

Gardeners

Kokopelli Watering

3D Watering Can & Frog
North Woods

Dragonfly

Double Duck

Wolf

Trout

Bear

Moose

Loon

Heron

Eagle
Southwest

Bronco

Buffalo

Saguaro

Gecko

Coyote

American Indian

Pueblo

Ridgeback Coyote

Roadrunner

Quail

Tepee
Country

Cow

Pig

Rooster

Horse Galloping

Horse

Bunny

Goose
Birds

Cardinal

Dove

Duck

Double Duck

Freedom

Pelican

Goose

Retirement

Heron

Hummingbird

Loon

Owl

Quail

Puffin

Swan

Grouse

Penguin

Raven

Cockatoo

Transformation

Peace Dove
Coast/Tropical

Anchor

Crab

Dolphin

Flamingo

Lobster

Manatee

Pelican

Puffin

Palm Tree

Orca

Sailboat

Tropical Fish

Turtle

Mermaid

Whale

Lighthouse
Musical

Violin

Acoustic Guitar

Cello

Tuba

Grand Piano

French Horn

Harp

Trombone

Horn

Hand Bell

Music Note

Trumpet
Animals

Llama

Buffalo

Cow

Moose

Camel

Galloping Horse

Horse

Rhino

Bear

Pig

Unicorn

Bunny

Gecko

Coyote

Wolf

Dinosaur

Ridgeback Coyote

Frog

Elephant
Christmas/Religious

Angel

Reindeer

Santa

Christmas Tree

Star

Chai

Chai Star of David

Spiral Icthus

Crucifix

Bell

OM

Icthus

Ankh
Shapes

Traditional

Abstract Star

Boomerang

Square

Triangle

Circle
Places

All States

Upper Peninsula

MI & Big UP

Man of the Mountain

Marth's Vineyard

Block Island

USA

Nantucket

Cape Cod

Coffeepot Rock

South Haven

Cape Hatteras

St. Joe Lighthouse

Orcas Island

Maine Moose

Heart of Texas
Southwest Petroglyphs

Kokopelli Shaman

Liberty Spirit

Floating Spirit

Shield Man

Petro Bird

Happy Mtn. Goat Shaman

Bird Man

Petro Moose

Mtn. Sheep

Horn Man

Petro Warrior Shaman

Headress Shaman

Petro Runner

Kokopelli

Shaman

Petro dog

Kokopelli Watering Can

Petro Fox
Northwest Petroglyphs

Petro Bison

Petro Frog

Petro Buffalo

Vision Quest

Petro Mountain Sheep

Hand Person
Hawaiian Petroglyphs

Muscle Man

Tall Man

Paddle Man

Rainbow Man

Runner

Birdhead

Bird
Miscellaneous

Thanks

Welcome

Shalom

Love

Peace

Peace Symbol

Apple

Block S

Block M

Butterfly

Crescent Star

Crescent Star w/Crystal

Dragonfly

Engagement

Fairy

Golfer

Female Golfer

Heart

Lighthouse

Maple leaf

Mermaid

Mellennium

Peace Angled

Sun

Campfire

Hand Spiral Heart

Morel

Plane

Shamrock

Skateboard

Spiral Heart

Teddy Bear

Ankh

Tooth

Spaceship

Wineglass